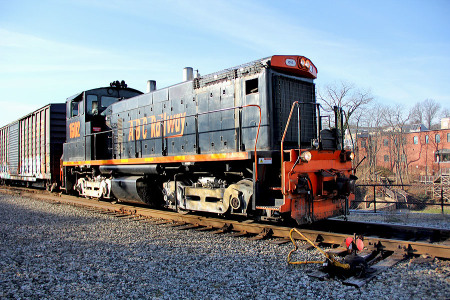 Akron Barberton Cluster Railway (ABC) is a Class III terminal switching carrier serving the greater Akron, Ohio area. Although ABC traces its origin to the late 19th century, it changed names and ownership in 1994 when it became a wholly owned subsidiary of the Wheeling Corporation. The general offices are located in Barberton, Ohio. The primary yard operations are in Barberton with secondary switching and storage at Firestone Yard in Akron.
Small Size, Big Efficiency
ABC's efficiency means competitive rates for its customers. In 2014, ABC served 25 customers with over 11,000 carloads in Akron, Barberton, Kent, Ravenna, Rittman, and Wadsworth with only 2 locomotives and 10 employees. ABC's rail lines are rated at 286,000 pounds gross weight on the rail.
Flexible Service
ABC transports a variety of commodities including aggregates, chemicals, grain, industrial minerals, pulpboard, lumber, scrap paper, petroleum products, plastic products and scrap iron.
Connections
ABC offers the benefit of direct interchange with two railroads to provide competitive rail rates. The connections are:
CSXT at Barberton — the largest class I carrier in the eastern US with 23,000 miles of track and interstate operations in 21 mid-Atlantic, Midwest, New England, and Southeast states.
Wheeling & Lake Erie Railway Company (WE) at Akron — the largest Ohio-based railroad and one of the largest class II regional railroads in the country handling over 130,000 carloads for over 110 customers in Ohio and PA. WE provides additional connectivity for the ABC through interchange with Canadian National Railway at Toledo and multiple interchange points with Norfolk Southern. The interchange between ABC and WE occurs in Akron.
For more information on ABC's services please call 330-745-4431 or use the contact form below. ABC's friendly staff would be glad to help you with all your transportation needs.
Akron Barberton Cluster Railway
43 Second St. NW
Barberton, OH 44203
P: 330-745-4431
Fax: 330-745-4519
General Manager: Herb Shanklin